Guided Tours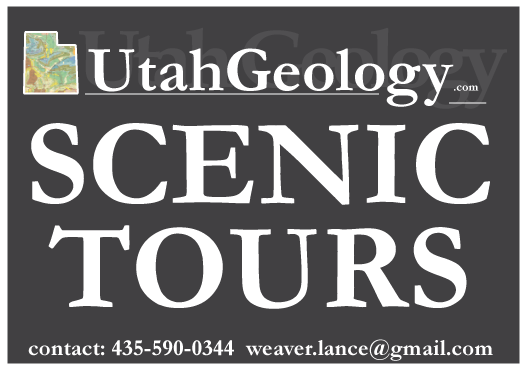 UtahGeology.com offers guided geologic scenic tours of Southern Utah. Specializing in Zion National Park, Bryce National Park, Capitol Reef National Park and Southern Utah's hidden adventures. Don't just go to these places… understand them.
How are we different from other Tour Outfitters?
UtahGeology Scenic Tours has one guide… me. You wont just get hooked up with some 22 year old non-local doing a summer job, you will be guided by one of the most knowledgeable geologist and outdoor enthusiast in Southern Utah. I work for the Utah Geological Survey and have access to a depth and breadth of information you won't find elsewhere. I grew up here. I know virtually every nook and cranny of Southern Utah. I canyoneer, I mountain bike and hike. I've spent over 20 years studying the area's Geology, and I can help you see things from a perspective and depth you wont find elsewhere. I'm fun and enthusiastic, and I often go to dinner with my clients and become life-long friends. I care about people and love getting to know them. I LOVE southern Utah and want to help you have an amazing time exploring it.
The day will start with a pick up from your hotel, place of lodging, or a predetermined location (usually Springdale, St George or Bryce City, UT). Actual meeting time and location will be decided per group. After meeting, me, your professional guide, we'll drive to one of the various area attractions or parks. Throughout the day, I'll explain the geologic history and ecology of the area.
Because of my unique background in geology, canyoneering, backpacking and archaeology, you won't find a more knowledgeable guide for exploring the hidden nooks or popular trails of Southern Utah. I've explored almost every corner of South-west Utah, and would love to share my knowledge and love of the attractions with you.
Visited sights can include:
Snow Canyon State Park
The Zion National Park Area
Bryce Canyon National Park
Many of the areas less known attractions in Southern Utah's backcountry.
Grand Canyon National Park or Grand Canyon-Parashant National Monument Area
Cedar Breaks National Monument
Grand Staircase-Escalante National Monument
Guided hikes through Kanarraville Canyon or other Slot Canyons in the area
Email me from the Contact Page for more information!
Pricing
Tours include guiding, transportation from your hotel or place of lodging (if group size permits), binoculars, and some types of hiking equipment if needed.
Pricing
Half Day
Full Day
Five or more people


$90/person

Five or more people


$130/person

Three – Four People


$130/person

Three – Four People


$170/person

Two People


$170/person

Two People


$210/person

One on One


$320/person

One on One


$380/person
Group rates available for larger groups. Groups larger than six will need to arrange separate transportation (most often by simply caravanning with your own vehicle). One on One rates negotiable in certain circumstances. If you have concerns, contact us to see what we can work out…

Iteneray
Most guests choose to fly into Las Vegas or St George Airports. Guiding sessions can be custom made to fit the scenery and locations you wish most to visit. The default Grand Staircase Package includes up to three main destinations which cover the breadth of Southern Utah's Geologic Record.
Destination 1. Zion National Park area. Zion's geologic units pick up where the Grand Canyon ends, showcasing the Early Mesozoic Layers of the Grand Canyon.
Destination 2. Bryce Canyon National Park or Cedar Breaks National Monument. Bryce Canyon and the Paunsaugunt Plateau showcases the upper Mesozoic and Early Cenozoic layers of the Grand Staircase.
Destination 3. Toroweap Viewpoint of the Grand Canyon. The Grand Canyon is much farther from my home base of St George/Cedar City and has an additional fee. (It is also a 2.5 hour drive). From Torweap visitors can hike to the Colorado River and experience each layer of the Paleozoic sequence to the Grand Staircase. For Zion National Park visitors who are pressed for time, the same layers can be seen by a short excursion through the Virgin River Gorge south of St. George.
Email me for more information! Visit the Contact Page
UtahGeology Scenic Tours
UtahGeology.com Geologic & Scenic Guided Tours
2155 N Ashdown Forest Rd.
CedarCity, UT 84721
&
St George, UT 84770
Lance took us on a tour of St georges area. Had maps that explained the area of St George and how it was formed. Stopped along the way and saw different areas . Then went on a hike at Dutchman's hike. Was fun and looked around for fossils in the rocks, Was an easy hike for someone not used to hiking much but very beautiful. Was very patient with our group and answered everyone's questions. recommended this to anyone.
Utah Geologic Tours owner Lance Weaver did the most amazing job of presenting a great 3 dimensional picture of the area in Utah where we live. He picked out a perfect location for our hike that was just right for our large group. We stopped along the way during the drive to the area we were hiking and learned a lot about the land and why it looks so different from any other state. He showed us fossils and answered questions from all of us while we were hiking. I would highly recommend this knowledgeable man to lead anyone who is interested in the land around us and how it got to be so incredible.
The gold standard of geology tours. Having spent a very significant amount of time outside in the western United States, I feel confident in saying my understanding, enjoyment, and the efficiency of learning about Utah's incredible and diverse geology was exponentially increased via UtahGeology Scenic Tours. Five-Star rating, strongly recommend.